TFS Refuel – the Scottish Highland Gathering in 2017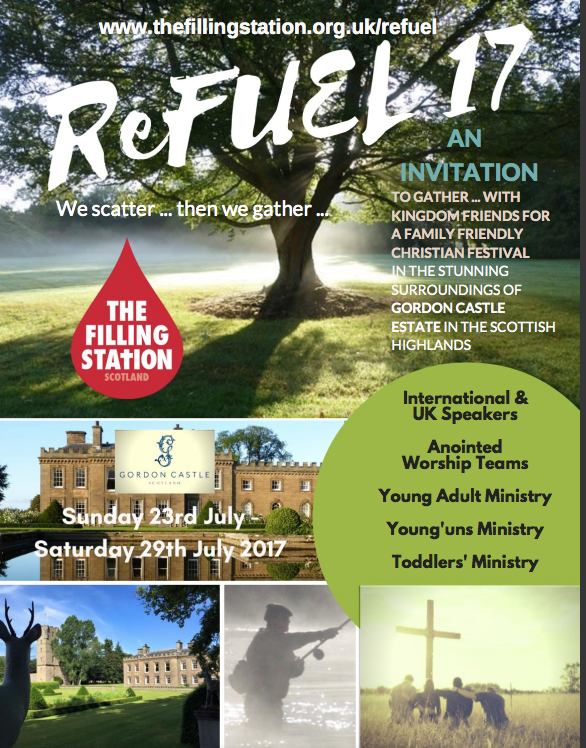 The new website for this event can be found at
The Filling Station is inviting christians from all over the UK and abroad to come together for a summer family festival upon the wonderful grounds of Gordon Castle Estate, on the banks of the River Spey, in the Scottish Highlands from Sunday 23rd July to Saturday 29th July 2017
The idea for such a gathering came after it was announced that Scotlands only Christian festival (The CLAN gathering) was to come to an end this year. Over 400 people signed up as being interested in this event, within 8 weeks of its announcement.
Craig Mackay, TFS Regional Director for Scotland said – "it is a privilege and a joy to  offer the opportunity for christians gather together in this way in Scotland.  The Highlands have so much to offer any family who chooses to make this their Kingdom family holiday for 2017. The setting is stunning, the amenities are first class and the sunshine is of course guaranteed!!"
The Refuel team are catering for 1500-2000 people with camping and glamping on site, including motorhomes and caravans. The castle grounds are within walking distance of the historic village of Fochabers where there are further guest houses, hotels, self catering accommodation, shops, cafes and restaurants.
The event will cater for all ages with skilled teams in place to ensure that young folk are especially encouraged in their faith and walk with God.
The event programme will offer a plethora of on-site activities in between the teaching and worship streams throughout the day and evening. Opportunities will also be available to be taken off-site to see dolphins and distilleries, mountains and museums, salmon and cities and all within 20mins of the venue
A current brochure is available to download at – 
Tickets are available at – https://www.ticketsource.co.uk/date/317324
You can sign up for more info at – http://eepurl.com/chq3pr
Or you can call the Refuel team on 01343 610230 at any time!