Our first Hadeland meeting, Norway!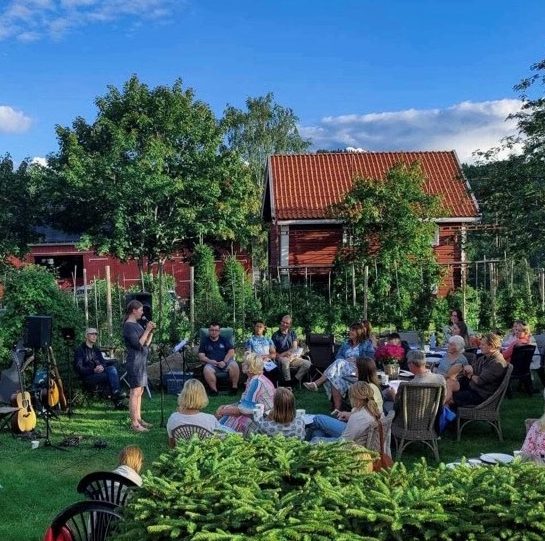 Our first meeting was really amazing in all ways, beyond our expectations.
We felt we should have the gathering outside on the farm belonging to the family of one of our team. We received a prophecy at The Filling Station Conference last year about hosting meetings outside, and God reminded us about this for our first meeting. In Norway, there has been so much rain in the last month, and even a flood in the area. But the 17th August was the best weather of the whole month – real summer – sunny and no rain at all!
There were 43 people who came, people from different generations (even some youth and children), from many different churches, and different areas (Hadeland is a bigger area, many drove 30 minutes). There people I did not know from before: I feel God had prompted people to come. I also talked with someone who did not attend a church and said she was thankful there was such a gathering that she could attend also. It was a neutral place for people to gather.
We enjoyed eating together, good worship and Eivind's talk was wonderful. After his talk, there were many people who came for prayer. Prophetic words were shared too.
I am just filled with such joy and thankfulness after this gathering. So thankful about being a part of Filling Station, and it's visible that people have prayed for us.
Here are two prophecies we received at the 2022 Renewal Conference, that very much describes the gathering we had:
"The sense that I had was that I saw you actually hosting these extremely beautiful gatherings. That kind of almost outside with long tables filled with people eating and feasting and sharing. And there was a real sense of community, and you bring light into situations where people feel that they got relationship. But there's a real fun-ness about it. And there's also a multi-generational thing. So, I saw children running around and I saw people who didn't have a family feeling part of. A restoration of family.
Reconciliation. Something about that your group is gonna be a reconciling group. I don't know how or what that means, but reconciled within communities, within each other. A team of reconcilers."